Spatial Management Plan for Markets in Perú within the Covid context – 19
Public/private space distribution strategies to prevent the spread of COVID -19
In recent weeks, public opinion and the media have finally come to realize the impact that retail supply markets have on the wide spread a of this pandemic in Peru.
Given the increase in the number of deaths, it seems that, despite mandatory lockdown measures, the number of infections continues to increase. (3,394 new cases in the last 24 hours). Therefore, it should be prioritized the containment of potential sources of infection, including 235 food markets that have been identified in the city of Lima. (GRADE Research).
No wonder this food markets are becoming the main infection sources, as they bring together all kind of issues that push forward the coronavirus spreading:
Vast unsupervised crowd: Firstly, vast crowds surrounding markets is a normal sight, as a result of consumption habits and the means that the population of Peru have to store perishable consumer goods. According to the 2014 INEI census, 50% of Peruvians got basic products in the food markets, and at the same time, 51% have no refrigerating system at home (

INEI 2017, Características del Hogar

– Home Features in English). By evaluating the data we can understand why the population goes out almost daily and risks their life to buy food.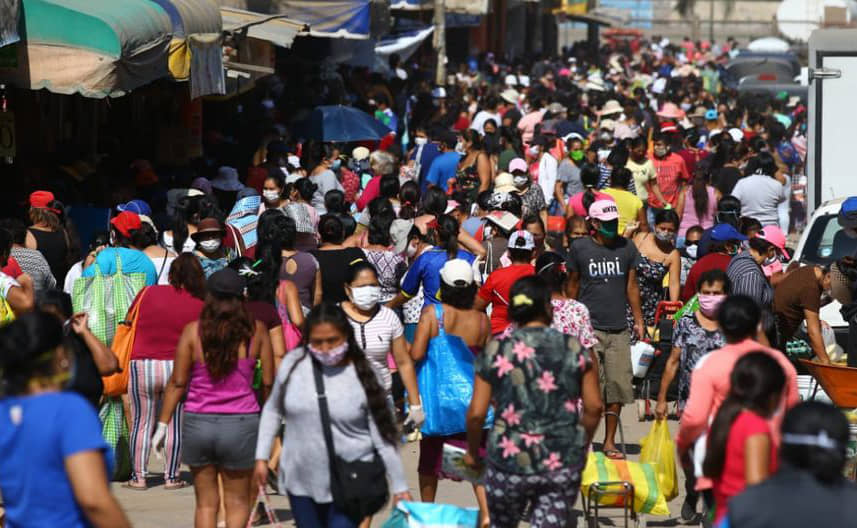 The Unicachi Market in Villa el Salvador. Photographer: Fernando Algama / GEC
Poor Hygienic Conditions: Secondly, the hygienic conditions were more than questionable already before the coronavirus appeared.

The last 2016 Supply Markets Census

showed that only 66.6% of the markets had solid waste containers, and 59.0% have no water tanks or cisterns.

Authorities Monitoring Issues: Thirdly, monitoring these areas is very hard because it would require a substantial intervention of law enforcements, not only because of the buyers, but also and fundamentally, because of the vast number of street vendors around the streets surrounding the markets. For

Morales Sotomayor

, the situation was already uncertain and unhealthy for most markets in Lima: "the surrounding streets and even the markets themselves are often full of street vendors who, in all fairness, are looking for a source of income to support their families; showing the absence of monitoring, chaos and lack of jobs".

SOME EARLIER DATA
In order to assess accurately the problem in here, it is important to access some data to begin with. According to the National Census of Supply Markets (INEI, 2016), half of Peru's supply markets were located in Lima. They grew greatly during the first decade of the twenty-first century with no effective regulations (in 1996 there were 549 markets and in 2008, they had almost doubled their number: 1,022 markets meaning 58.4% of all existing markets in Peru). In 2016, 1,232 supply markets in Lima meaning 47.2% of all the markets in Peru. Most of them (91%) are retail markets (1,126 of 1,232), reaching a total of 132,716 fixed sales stands.
It is also important to understand that before we take any measures, we get to know the systems of the supply markets, from their physical structures to their management operations. The most common 3-type-traditional fixed sale stands in Lima are: fruits and vegetables, meat products (red meat, poultry, fish and seafood), and grocery. The ratio of each of the 3-type of sale stands is similar and close to 32% (INEI, 2016).
The most frequent type of management for supply markets is by the Board of Owners (67%), followed by markets managed by individuals (17%) and the Boards of Directors (10%). The latter can be taken as a sub-category of the Board of Owners, since they are markets that, in addition to have been founded as cooperatives, have a governing body that is elected every year or every other year. To sum up, Lima has 78.2% of private managed by Vendors associations, more or less organized, compared to 3.3% of municipal markets. There are more municipal markets in provinces, raising the national average to 25.4% of public markets in the country.
This should help us to understand that before any measures are taken, due systems for public-private management must be come up with. This will include the existing organizational structures, as well as the profiles of all commercial agents.
Owners of sale stands, mostly members of cooperatives (the only ones visible for statistical purposes)
Vendors who rent the sale stand from the owners, but who usually lack the same decision-making power within the cooperative.
Those without sale stands, normally operating on the floor with crates and merchandises on the so-called pampas. They have a roofed space, but make part of street trade (25.3% of the supply markets according to INEI, 2016)
Vendors with no roofed space and who occupy the surrounding areas of the market with mobile sale stands or merchandise on the floor. They normally pay local mafias for the space they occupy. Sometimes, these local mafias have connections to the municipalities. The 2016 Census showed that 58.5% of the markets had connections to street vending operations.
Each profile has different needs and interests. Therefore, any measures must take into account all the agents involved in order not to cause social conflicts. These agents must be understood within a commercial formalization cycle, as many current owners were once street vendors, who gradually and with hard work, managed to rent a better space and ended up joining formal cooperatives.

Av. Oscar R. Benavides,  Peru.  Photographer: J. Smith Torres-Román
PRIVATE/PUBLIC AND MULTIDISCIPLINARY MANAGEMENT STRATEGIES.
An opportunity to create a significant change
GRUPO AV (Arquitectura Verde – Green Architecture in English), a consulting firm specializing on market projects in recent years, has developed a plan and whose main strategies will be explained. All of them take into consideration a multidisciplinary approach to the existing issue with a positive attitude aimed at profiting from the opportunity to produce the seed of change on the environmental conditions of the food markets in the future in the post-pandemic stage. This way, we can deal with this unresolved matter.
Any action plans must share this approach and address the operation in the market as an ecosystem where many conflicting forces coexist. Social distancing measures, for example, cannot be implemented without an effective communication plan and easy-to-read signs. The social conflicts among different groups of commercial formalization coexisting in the surroundings of the food markets can raise challenges to any measures against expansion to the surrounding streets. It is important to take this into consideration and include a variable of social intermediation in the study.
Therefore, we propose a multidisciplinary team that will allow the proposal of contrasting solutions among different specialists and having the support of public administrations as guarantors of its implementation.
 The following three hubs of action proposed are:
Communication Plan

Safety, Health and Risk Management Plan

Space Distribution Plan
---
COMMUNICATION PLAN
One way to reduce the spread is by reducing the exposure. If we change consumption habits, encouraging online shopping including delivery, we would reduce physical contact. It makes no sense in this context of coronavirus, (and surely not if we think in terms of the future) that buyers walk around the market through a maze of stands with minimal corridors, forcing them to approach each other, whether they want to or not.
Therefore, on the basis of the available resources, potential changes in consumption habits must be assessed, such as the inclusion of payments with electronic purse card instead of cash (the handling of metal manipulation is an infection vector), or the utilization of the market only as a collection and distribution center. Orders could be taken in advance and clients just come over to pick them up.
SAFETY AND HEALTH AND RISK MANAGEMENT PLAN
The quick spread of the pandemic does not depend on the resistance of the SARS-CoV-2 coronavirus, but on the high ratio of asymptomatic, infected population carrying the virus. To keep this population from becoming a spread factor, the most efficient measures need to be taken such as 2-meters-social distancing, the use of mouth masks and gloves, the cleaning and disinfection of exposed surfaces, and frequent hand washing.
Surveillance should be improved so that clients showing any signs of infection can be detected. They will be asked to see a doctor and/or confine themselves, by monitoring access and taking body temperature readings. As more efficient tests become available, food markets could function as distribution centers as paramedical stands. Through these quick tests, vendors will get to know how likely is for them to get infected.
Food markets solid waste management plans should add new kind of waste (one-wear mouth masks, plastic materials SARS-CoV-2 can remain active in and be a source of infection for up to 3 days, disposable gloves, etc.). The cleaning and disinfection plan will require enough sources of water supply and hypochlorite (bleach).
SPACE DISTRIBUTION PLAN
Social distancing required to avoid aerial spread of COVID-19, forces us to assess other way of space organization, compatible with the operations taking place in a Food Market. All operations, from loading and unloading, storage, distribution and shipping, should follow a new organizational logic preventing crowds and reducing physical contacts.
We have established 3 stages of action to adapt the markets to this new reality:

1.- DECENTRALIZATION AND EXPANSION OF TRADITIONAL MARKETS
The first steps towards space distribution and expansion should focus on finding possible nearby expansion areas. These spaces can be sports fields, schoolyards, parks, parking lots, fairgrounds, or any other nearby outdoor areas that can quickly adapted.
Ideally, these areas should also allow the relocation of all market stands in the future, so that no commercial activity be put on hold as future refitting works are carried out. One of the main problems that cooperatives face when they start formal construction works as a way to make their facilities better, is the need to put their regular operations on hold while the new implementations are taking place.
Considering the current area occupied by markets and the number of stands within their limits, several of them are already overcrowded and unable to comply with the minimum passageway and circulation measures that Indeci (National Institute of Civil Defense) and RNE (National Building Regulations) set forth in Peru. Therefore, it is not possible for the same number of current stands to fit in the existing market facility including social distancing measures. If we were to relocate all the current stands and comply with INDECI Regulations, we would need to double the area, and if we were to comply with the current social distancing guidelines, we would need 3 times the current roofed area.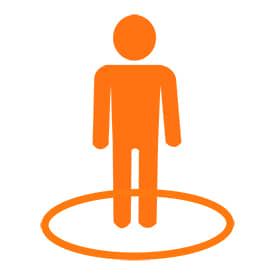 2.- CIRCULATIONS AND DELIVERY OPTIONS MANAGEMENT
Within markets, stands should be placed far enough from each other, prioritizing meat and fish stands which need water the most. The interior of the market should be structured in a different way, with storage areas on the one hand and shipping areas on the other, clearly differentiated and with specific health protocols. The lessons of the agri-food industry of our country can be applied, which in many cases -at low costs- are capable of establishing quite effective sanitary rings, simply by means of disinfection ditches for footwear. All entrances must be checked and disinfected, as surely not everybody should have access to these facilities, only vendors and suppliers. The plan is to transform the current interior space into an ordered distribution center with people transfer areas and clear protocols for each process. The pampa-type spaces more open and flexible, should be considered for ordering storage and storage areas.

3.- SELF-REGULATION OF LINES, SIGN READING AND APPS
If buyers knew in advance either when to expect smaller crowds at the markets or the time they will spend in lines over there, they could regulate themselves. This means a reduction of law enforcement needed to control these places. That is why we see this as an opportunity to build a virtual network to connect consumers and producers to help find a solution for this problem. Some of these markets already that have their own apps to place orders (Surquillo Market).
With the goal of being able to apply the expansion of the current market in an orderly manner, it has been proposed that the stands be classified into 3 large groups associated with 3 intuitive colors. 
GREEN SPOTS
Fruits and vegetables placed in a ventilated area and furthest from the sun.
RED SPOTS
Meat Group, they will be relocated within the current market if possible, as they require water supply. If this is not possible, temporary ceilings must be provided.
YELLOW SPOTS
The rest of food products, mostly groceries. Notions stands should not be open as they are not essential consumer goods.
---
The ratio of these 3 groups matches the usual section-based organization of any food markets. This would facilitate communication and management with the agents involved, because the sections usually have an associate manager already who knows all the vendors in their area.
The mentioned spots would be painted on the floor, each 2m apart, so that every individual goes only from circle to the next as it has been done in markets like the one in Piura. The difference being that their numbering and color can easily guide consumers and reduce waiting times. Additionally, all physical information can be consulted in real time through the market application.
---
Conclusions
During this emergency, protocols have been prepared to be implemented in supermarkets, but these protocols cannot be transferred to food markets. So far, no realistic strategies have been developed to stop the spread within Retail Supply Markets, despite of them being one of the main current sources of infection.
A comprehensive action plan must be followed from different concurrent points of view, so as not to fall into naive or hard-to-apply proposals. It is important that these proposals give place to a communication and infrastructure network that contributes to the future regeneration of the markets. Let's not miss the chance we have for improvement and modernization.
Gabriela Sanz, Architect. CEO Grupo AV – Arquitectura Verde (Green Architecture in English)
Team: Ana Guevara, Angélica De la Barra, Grecia Santillán, Jazmin Abadía, Jeffrey Smith, Maithe Nava.